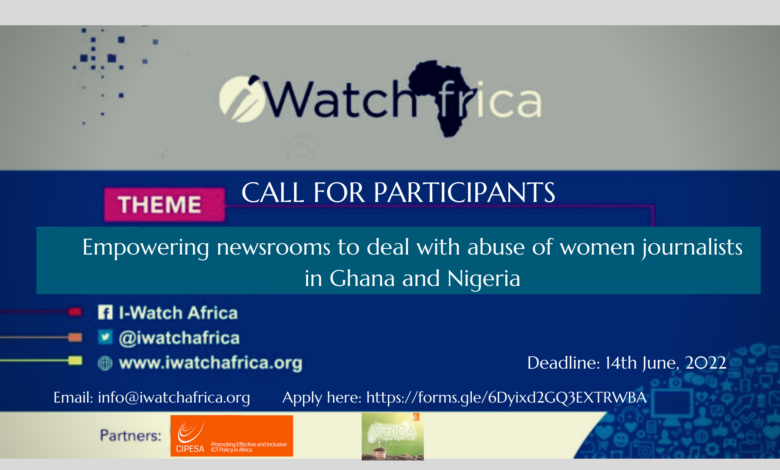 Call For Participants: Empowering newsrooms to counter abuse of women journalists in Ghana & Nigeria
iWatch Africa Call For Participants
iWatch Africa is a not-for-profit media and policy organization dedicated to promoting transparency and accountability across the continent.
iWatch Africa with support from the Collaboration on International ICT Policy for East and Southern Africa (CIPESA), through the Africa Digital Rights Fund (ADRF) is equipping and assisting 20 newsrooms in Ghana and Nigeria to set up online safety units in response to the growing online violence experienced by journalists, particularly female journalists.
This project is a sequel to iWatch Africa's digital rights initiative launched in 2020 to track, document and analyze threats against journalists, media workers within the digital ecosystem in West Africa.
Eligibility
Applicants are expected to be:
• Ghanaian or Nigerian nationals aged between 18 and 45 years old, and must be prepared to influence change in their newsroom or organization.
• Must be a journalist or work within the media ecosystem.
• People or activists who directly contribute to media development programs in Ghana and Nigeria may apply.
Deadline for applications:  14th July 2022
NOTE: Female journalists are strongly encouraged to apply.
Apply via link here: https://forms.gle/6Dyixd2GQ3EXTRWBA
Send an email to info@iwatchafrica.org if you encounter any difficulties in completing the form.