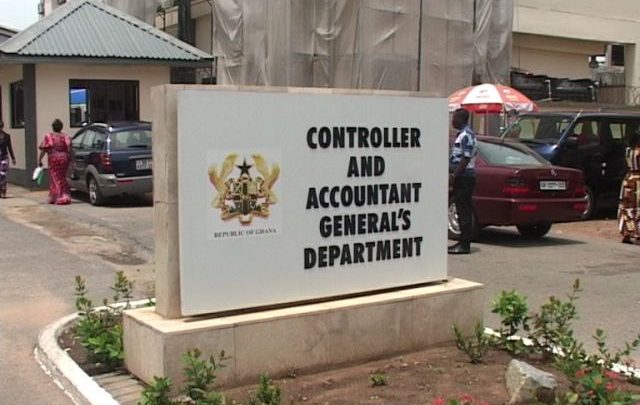 Video: Over GH¢600 million in off-shore accounts at risk of abuse & recovery
Tracking government expenditure
iWatch Africa review of the Consolidated Fund report for 2016 has revealed that the Controller and Accountant General (CAG) failed to provide adequate documentation covering five off-shore bank accounts operated on behalf of several State Owned Enterprises (SOEs) in 2016.
The Government of Ghana on a number of occasions, established collateral agreements with third party Institutions on behalf of some SOEs. In this respect, CAG is required to assign designated bank accounts with a minimum deposit to absorb the liability in case of default by the SOEs.
CAG accordingly opened five offshore accounts outside the treasury system with total a deposit of GH¢676,096,128 as follows.
Banko Du Brazil- Hanger project – 69,486,464
Banko Du Brazil- Eastern corridor – 24,049,241
CDB owner contribution – 206,380,064
CDB Debt Service Reserve 366,604,322
CDB Collection Account 9,576,037
However, the Consolidated Fund report for 2016 indicates that no accounting records with enabling terms and agreement were maintained by Controller and Accountant General Department (CAGD) on these accounts.
Read Also: Ministry of Finance released close to GH¢30 million to the Electoral Commission without following proper legal guidelines
The only documentation provided by the CAGD according to the report was three bank statements (VOSTRO Accounts) from the China Development Bank Corporation.
The report also indicated that confirmation listing or periodic statements to facilitate effective monitoring and ownership affirmation for future recoveries were also not available.
This contravenes Regulation 191 of FAR 2004, (LI 1802) which require CAG to support the Public Accounts with notes and other qualifying information.
Another issue which is of much concern is that, the administering responsibility for the five securities which represented 12% of total cash and cash equivalents figure of GH¢5.5 million was not clear or assigned to any of the Directorates.
Read Also: Full List: Volta Region ranked 1st for mismanagement of Assemblies' Common Fund
These lapses however mean it is difficult to obtain reasonable assurance on the completeness and existence of all the total account balances and this goes to show the disdain public officials display when it comes to protecting the public purse.
Mr Seidu Kotomah, former Controller and Accountant General could not be reached for comment.
iWatch Africa's, Gideon Sarpong takes a paranomic look at this issue in the video below;
More to follow.
Report by Moro Omar Saeed | Edited by Gideon Sarpong | iWatch Africa