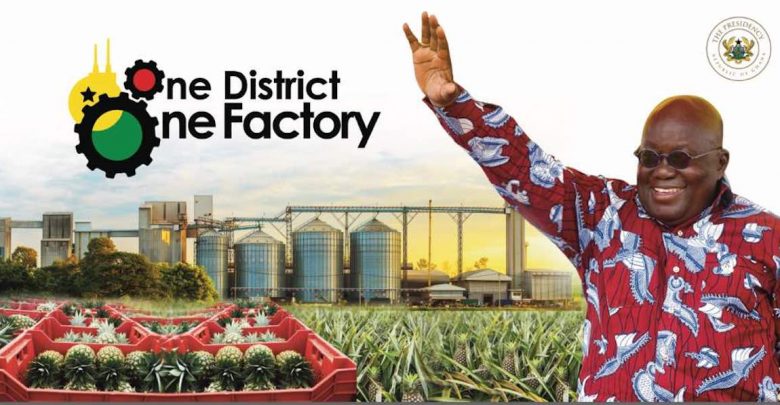 1D1F: Gov't promises to allocate GH¢2 million to assemblies in 2018 after failing to meet 2017 targets
Tracking Budget Statement
The government of Ghana has promised to allocate a minimum of GH¢2 million to each district assembly in Ghana for the implementation of the 'One District One Factory' (1D1F) initiative after failure to meet 2017 set targets.
The government committed in the 2017 Budget Statement to begin the actual implementation of over 50 enterprises to help deal with unemployment but managed to only commence the construction of one factory at Ekumfi.
The Finance Minister, Ken Ofori-Atta reiterated government's commitment to delivering on this key policy initiative in the 2018 Budget Statement to reduce youth unemployment in Ghana which currently stands at 48 percent according to World Bank figures.
The government has promised the implementation of 191 projects under the 1D1F initiative. The Budget Statement indicated that 104 of these companies will be operating in the agribusiness sector whilst 20 are businesses in the meat and poultry sector. Forty of these companies will be operating in the construction and building materials sub-sector, whilst the remaining 27 are businesses operating in the Cosmetics and Pharmaceuticals sectors.
Read Also: 2017 Budget Statement: Key commitments the government has failed to meet set targets
Regional breakdown of the companies are as follows:
Ashanti 35
Brong Ahafo 19
Central 21
Eastern 34
Greater Accra 28
Northern 17
Upper East 4
Upper West 5
Western 10
Volta 18
Read Also: Key Highlights of the 2018 Budget Statement [Infographic]
Looking at trend for 2017, it is unlikely government will meet all of its target for 2018, notwithstanding, iWatch Africa will continue to monitor all of the government's efforts to deliver on their mandates in 2018.
Report by Gideon Sarpong | iWatch Africa