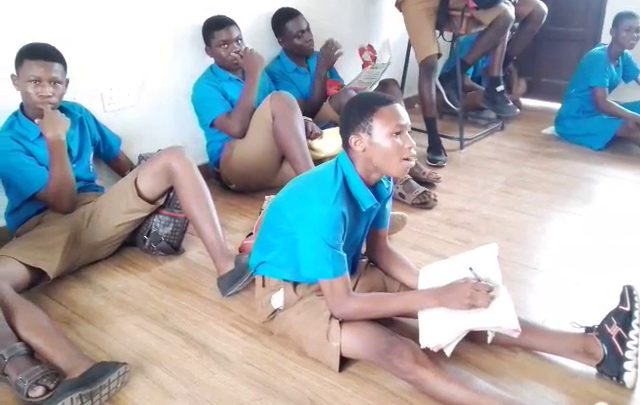 Free SHS: Gov't promises to provide 69,500 desks to address furniture deficit in schools
Tracking Investment in Education
President Nana Addo Dankwa Akufo-Addo has announced that contracts will soon be awarded for the provision of 69,500 single desks and 13,100 bunk beds to Senior High Schools across the country.
This move, according to him, is expected to address the furniture deficit in a number of schools as part of his administration's commitment to dealing with the challenges in the implementation of the Free Senior High School policy.
This comes on the back of reports highlighting challenges associated with the programme and intense criticism from members of the opposition.
iWatch Africa can confirm the dire situation at the Parkoso Community Day Senior High School in the Asokore Mampong Municipality of the Ashanti Region, where some students sat on the bare floor due to the lack of desks.
The President said furniture will also be supplied for dining halls, staff common rooms and computer laboratories while marker boards will be provided for the classrooms.
"We have taken that first step in Ghana and we should deal with the challenges. In dealing with them, tenders have already gone out and so contracts will be awarded for the provision of some 69,500 desks and some 13, 100 bunk beds. Additionally, tender documents have been issued for the supply of furniture for dining halls, staff rooms for teachers, computer laboratories and the provision of marker boards for classrooms," Nana Addo said.
The President also revealed plans by his government to upgrade facilities in 75 Senior High Schools across the country.
"Under the Secondary Education Improvement Project, government has secured a 40 million US dollar loan from the World Bank for the expansion and upgrading of facilities in 75 Senior High Schools across the country. Construction works of the existing Community Day Senior High Day Schools are ongoing. Government will also upgrade 42 Senior High School into modern school status," the President added.
Read Also: Two unused community day schools deteriorate despite widespread congestion
The President however failed to provide a timeline within which all these commitments shall be completed.  iWatch Africa can independently confirm that works on several Community Day Senior High Schools have stalled contrary to the President's claim.
iWatch Africa will continue to monitor government's effort to deliver on its mandate.
By: Gideon Sarpong | iWatch Africa