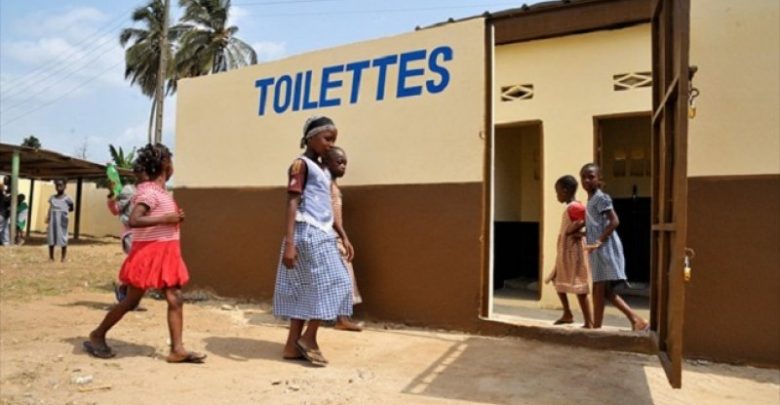 36% of public basic schools without toilets – Report
Tracking investment in Education and Health
About 7,332 out of the 20,738 public basic schools in the country do not have toilet facilities, while 6,922 do not have urinal facilities according to a report by UNICEF.
Additionally, 11,985, representing 58 percent of the basic schools, do not have water facilities.
For instance, out of the 3,754 public basic schools in the Ashanti Region, 1,427 are without toilet facilities, and in the Western Region 1,132 out of the 2,408 schools are without toilets.
In the Upper West Region, out of the 1,165 schools, 350 are without toilets.
Access to regular water supply
According to the Education Management Information System (EMIS) for the 2016-2017 academic year, even though about 65 percent of all basic schools had latrines, only 42 percent had access to water supply.
The EMIS indicates that the lack of access to regular water supply sources had made it difficult for students to use school latrines or to encourage positive hygienic practices and habits.
To address the above challenges, the Ministry of Education, in close collaboration with the Ministry of Sanitation and Water Resource, Ministry of Local Government and Rural Development, the Ministry of Health and other stakeholders, has developed a strategic document which seeks to provide children with a clean, safe and healthy learning environment.
Known as the National Costed Strategy for WASH in Schools (WinS), the strategic document, which is expected to be implemented from 2018 to 2030, seeks to cover public basic schools, including all public kindergartens, primary and junior high schools (JHS).
At a stakeholders' consultation workshop to validate the strategic document in Accra, the Chief of WASH at the United Nations Children's Fund (UNICEF), Mr David Duncan, painted a rather gloomy state of hygiene in schools in the country.
He said for instance that two out of every five children went to school without toilet facilities and were forced to defecate in the open, while more than half of schoolchildren attended schools that had no water facilities.
Major challenge
Describing it as a major challenge, Mr Duncan said if the current trend was allowed to persist, it meant that "we are looking at a whole generation of children potentially going to school without toilet and without water to wash their hands."
He said the strategic document sought to identify what the country needed to do in order to ensure that the future generation did not go to school without those facilities.
"What we have to do is to make sure that we have toilets in all schools, what we have to do is to make sure that we have water in all schools and what we have to do is to ensure that all children have access to water to wash their hands," Mr Duncan later told the Daily Graphic.
He explained that in the last few years, UNICEF had channelled millions of dollars into the sector and that for this year alone, it had spent $4 million on WASH in schools.
Read Also: Ghana loses over $180m to trade misinvoicing, key policy recommendations for Gov't
Owning the strategic document
The Director of the School Health Education Programme (SHEP) of the Ghana Education Service (GES), Nana Esi Inkoom, explained that the strategy was developed with technical and financial support from UNICEF.
She also expressed gratitude to the government of Canada and other stakeholders "for the immense support towards the development of the strategic document."
Nana Inkoom said the strategy would provide guidance and direction in translating the National Minimum Standards and Implementation Modules for WASH in Schools into practice, using common approaches across schools in the country.
–
Credit: Graphic Online/Ghana