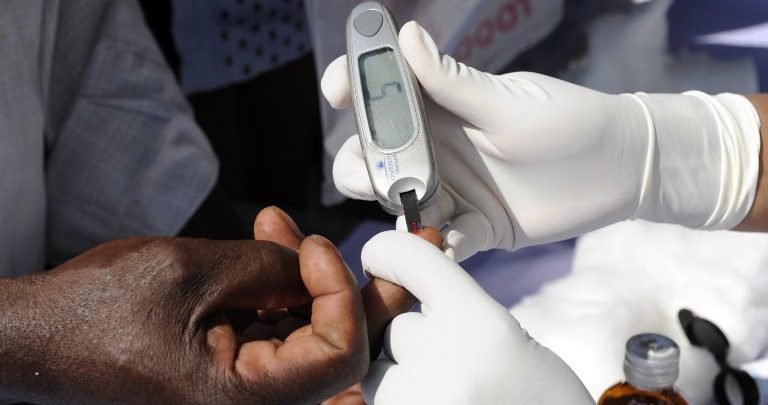 Diabetes death rates increased by 46 percent between 2005-2016
Tracking healthcare in Ghana
In Ghana, about 4 million people are living with diabetes according to a 2016 report by the Ghana Diabetes Association. Rates have been on the rise since 2005, a trend that's being echoed worldwide.
iWatch Africa analysis of health data between 2005 to 2016 revealed a striking rise in diabetes in Ghana. The data first published by the Institute for Health Metrics and Evaluation (IHME) in 2018 revealed over 46 percent increase in diabetes death rates from 2005 to 2016.
Diabetes, which ranked as the number 14 cause of most deaths in Ghana in 2005, is now the number 7 cause of most deaths according to the report. Diabetes is linked to many complications, from heart disease and kidney damage to eye problems and hearing impairments. Most of its complications are due to underlying insulin resistance, which is a foundational cause in many cases of chronic disease.
Diabetes could easily be called pre-cancer or pre-heart disease, because the insulin resistance is damaging to all of your body's tissue including that of your brain.
Prof. Agyeman Badu Akosa, a former Director General of the Ghana Health Service has advised Ghanaians to adopt healthy lifestyle habits including eating vitamin rich meals and protein source foods to remain healthy .
READ ALSO: World Press Freedom Day: Journalists demand end to attacks on media
He said Ghanaians should reduce their alcohol intake and embark on regular exercises to lower their blood sugar levels.
The nutritionist further called on young people to read more about diabetes and learn more about its early detection to slow down chronic complications.
Diabetes and associated chronic conditions are rapidly emerging as major health problems. It remains one of the leading causes of death worldwide, the World Health Organisation (WHO) has said.
WHO has estimated that 347 million people globally have diabetes.
Report by Gideon Sarpong | iWatch Africa