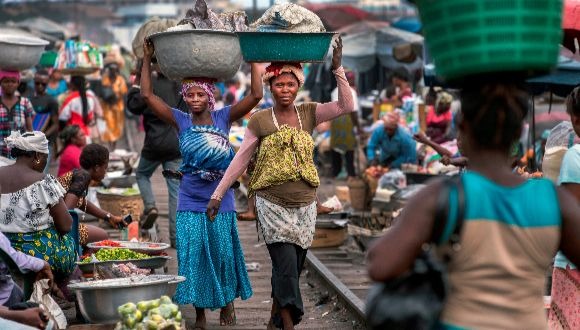 Why do men win 99 percent of all procurement contracts?
Opinion: The need to change business as usual in procurement
The vast majority of us can agree that greater participation of women in the economy and in trade boosts economic growth and makes it more inclusive.
But we need to translate this understanding into action and ensure that governments — and the private sector — do more to make this happen.
The fact remains that despite encouraging results in some countries, there is no economy today where women are on the same economic footing as men. In trade, even less so.
One way to help rebalance inequality is through procuring from women-owned businesses.
Welcoming female entrepreneurs
For these women-owned businesses  — which make up more than 40% of the world's micro, small and medium-sized enterprises (MSMEs) — trading across borders has its particular challenges. The same is true for winning procurement contracts, which is even harder.
Only 1% of government procurement tenders are won by women
That winning procurement contracts is more challenging for women should come as no surprise: women entrepreneurs are at a disadvantage in many aspects of local and international trade.
They face unequal access to finance, skills, land and support networks. And evidence by surveys carried out by the International Trade Centre (ITC), suggests that women frequently encounter gender-specific barriers when dealing with trade-related paperwork, including public-procurement tenders.
Extreme gender imbalances
In 2015, ITC launched the SheTrades Initiative, which aims to connect 3 million women entrepreneurs and women-owned businesses to international markets by 2021.
The initiative sets out seven areas for intervention that need particular attention if we are to unlock more opportunities for women to trade. One of these areas is procurement.
Procurement, in this sense, refers to both government purchases and private-sector sourcing. In most economies, government procurement accounts for between 10% and 25% of GDP.
In some developing countries, this figure can even reach up to 40%.
What is clear is that public and private private-sector procurement together account for a very sizeable percentage of global economic output.
Still, according to a joint study done by ITC and Chatham House on gender and procurement, globally, only 1% of government procurement tenders are won by women.
As a result, women-owned businesses lose out on the potential that these procurement contracts can offer: growing their business, building scale and innovation and entering new value chains.
Changing business as usual 
So why is it that there is such a low rate of women winning public and private procurement contracts?
In many ways, it boils down to gender-specific challenges that stem from the confluence of underlying socio-economic and cultural factors that affect how women-owned businesses operate.
Women-owned businesses lack access to finance compared to their male-owned competitors, which places women-owned businesses at a disadvantage with respect to bidding and compliance costs as well as the ability to absorb the impact of delayed payments.
Women-owned businesses are less present in the "high economic impact" sectors that grab the lion's share of procurement contracts, such as construction, transportation, warehousing, manufacturing and wholesale trade.
In fact, in some developed economies, the share of MSMEs owned by women ranges from only 3% to 18% in these sectors.
In developing countries, women-owned businesses face additional obstacles in bidding for contracts. For example, to demonstrate eligibility, they must be able to demonstrate technical competence, financial resources, equipment and other physical facilities (to be held as collateral), managerial capability, experience, and personnel that are often certified by responsible national agencies. Women-owned businesses are often at a disadvantage because they are typically smaller than their male-owned competitors, with less experience and fewer resources to draw upon.
The bidding process itself is quite cumbersome and difficult to navigate. In both the public and private sector, tender information is not easily accessible, requirements and skills qualifications are unclear, and a significant financial burden is often placed on bidders.
In addition, companies and government agencies often rely on established channels to identify new suppliers or sales representatives. If in the past these have been dominated by male-owned businesses, the future is likely to be similar.
Opening the door to women
So what can be done to enable women-owned companies to win more procurement contracts?
It will require a concerted effort and collaboration between public and private sector actors, and, above all, political will.
This is not just about creating more opportunities for women: it is about creating societies that are equal, fairer, and to ensure a future that is more economically inclusive
It is also fundamental to have a clearer understanding of the definition of a women-owned business to be able to collect sex-disaggregated data on women's participation in procurement. This will inform the requirements of suppliers to meet the needs of buyers, and can help in the creation of certification and registration programmes developed to pre-qualify contractors.
This can help to create an enabling policy environment that facilitates opportunities including preferential schemes, specific provisions, and subcontracting plans that benefit women-owned businesses.
Small steps 
But let's also keep in mind that, to date, only 17 countries have specific legislation on women-owned businesses in their procurement policies. For these to work, governments need to clearly communicate information on source selection, contract awards, and tender sizes.
Increasing the number of countries that have clear legislation supporting procuring from women-owned businesses is an important political signal to send.
Simple efforts by government and larger enterprises, for example, such as actively seeking out women-owned suppliers, can make a huge difference.
It would lead to more women-owned companies winning tenders — and also increase women representation in procurement and value chains.
We have a long way to go, but we are on the right track. In 2016, the United States for the first time reached its target of awarding 5% of federal procurement to women-owned businesses.
That might not sound like a lot, but it is an important step forward.
Read Also: Nearly 40% of the world's girls and women live in countries failing on gender equality
Not just a women's issue
At ITC we have created a series of offerings related to public procurement, many of which are targeting women-owned business in particular. These include best practices and guidelines such as Empowering Women through Public Procurement and Procurement Map, a database that details information on over 150,000 tenders daily and specifies opportunities for women-owned businesses and legislation on women and procurement.
Through the SME Trade Academy, we provide e-learning courses on strategies and solutions that help public procurement officers to create opportunities for women-owned businesses.
Currently we are in the process of developing a new policy tool — the SheTrades Outlook — through which we are collecting and analyzing sex-disaggregated data that will help us better monitor and improve how countries support women to trade, including through procurement.
To improve the ability of women-owned businesses to win more procurement contracts and overcome the frankly dismal current rate of 1%,  it is crucial to increase joint efforts and taking action.
And let's keep in mind that this is not just about creating more opportunities for women: it is about creating societies that are equal, fairer, and to ensure a future that is more economically inclusive.
This opinion article was written by Arancha González, Executive Director of the International Trade Centre.