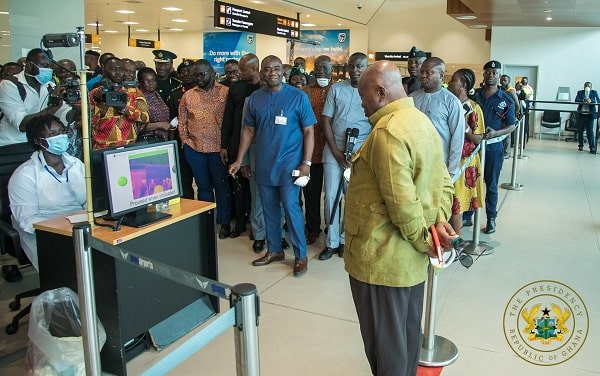 Ghana: Gov't under pressure as confirmed COVID-19 cases surge following lift in lockdown
Tracking COVID-19 in Ghana
The Ghanaian government is under an intense pressure from health experts and citizens following a spike in the number of confirmed COVID-19 cases in the country.
On April 19, Ghana became the first country in the Sub-Saharan region to lift its partial lockdown. The confirmed COVID-19 cases as at then stood at 1047, with number of deaths at 9.
Two weeks following the lift in the lockdown, the Ghana Health Service has announced that the number of confirmed COVID-19 cases stood at 2,719, 294 recoveries and 18 deaths representing over 100 percent increase in deaths and confirmed cases.
Former Director-General of the Ghana Health Service, Professor Agyeman Badu Akosa has expressed his "disappointment" over President Nana Akufo-Addo's decision to lift the lockdown imposed on some parts of the country.
According to him, the upsurge in COVID-19 cases in the country defeat the government's decision to lift the lockdown.
He said, "looking at the science of this whole distribution of COVID-19, one will realize that it has moved from the center, Accra, towards the periphery…Even with our cases, there was still a lot of backlog in testing which we felt was not good enough [to warrant the lifting of the lockdown]."
Meanwhile, Dr. Zabulon Yoti, the Regional Emergencies Director (Acting), World Health Organisation in a press briefing organized by the Thomson Reuters Foundation has advised governments to "institute targeted lockdowns" to prevent spike in cases as many countries in the Sub-Saharan region relax lockdown restrictions.
"If governments institute targeted lockdowns, we would not see these spikes after lockdowns are lifted. Also, there must be flexibility in the way we respond to these pandemics. There is a fear of spikes if the lockdowns are lifted without adequate measures in place," Dr. Yoti told a group of journalists during the briefing.
As part of the government's effort to contain the surge in COVID-19 cases in Ghana, Information Minister Kojo Oppong Nkrumah at a press briefing on Tuesday in Accra insisted that public buildings and offices must have a "no mask no entry" policy.
The 'no mask no entry' operation is in line with enforcement of COVID-19 directives issued by the Greater Accra Regional Coordinating Council and Ministry of Health, he stated.
Meanwhile, Senior Research Fellow at Ghana's leading biomedical research, Noguchi Memorial Institute for Medical Research (NMIMR), Dr. Kofi Bonney has argued that,  "It will be difficult to limit the spread of the virus because of the disregard for Government's directives aimed at achieving the aforementioned purpose."
"The blatant disregard by Ghanaians with regard to the social distancing and regular washing of hands directive will cause problems," he added
Ghana remains West Africa's second most impacted behind Nigeria who have 2,800 plus cases at May 4th.
Report by Gideon Sarpong | iWatch Africa | Follow @gideonsarpong