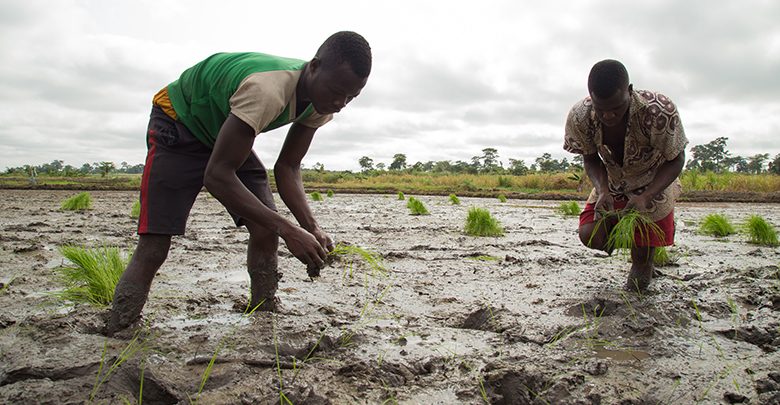 Planting for Food & Jobs: Neglected Rice farmers in Volta Region appeal for gov't support
Tracking the Planting for Food & Jobs program
Rice farmers in the Akatsi South and Ketu North districts in the Volta Region of Ghana are appealing to the government to come to their aid after being sidelined in the 'Planting for Food and Jobs program' last year.
The government of Ghana promised in the 2018 Budget Statement to distribute assorted farm equipment including: 200 tractors and matching implements, 1,000 power tillers and walking tractors as part of its flagship Planting for Food and Jobs program.
Kojo Ahagde, a rice farmer at Atsiekpi, expressed his frustration after rice farmers in the region were sidelined during the first phase of the program in 2017, which mainly involved distribution of seeds and discounted fertilizer.
"I hope that this year would be different. Last year, we didn't receive any support from the State. The program had little to do with rice farmers," Mr. Ahagde told iWatch Africa.
The Planting for Food and Jobs program received a major boost last April following the signing of a 20-million Euro credit between Ghana and the Czech Republic Export Bank.
Zachariah Hagie, who is also a rice farmer at Kpenu, hopes that farmers in the Volta region will benefit from the loan facility in the form of mini-tractors, compact tractors and combine harvesters.
"The difficulty most farmers in the region face is the delay in deployment of combine harvesters to harvest our rice. We expect that the loan facility will benefit all farmers not only farmers who are connected to the government in power," Mr. Hagie stated.
Meanwhile, Ghana's Minister of Food and Agriculture, Dr Owusu Afriyie Akoto, has assured small-holder farmers that the new credit facility from the Czech Republic Export Bank will benefit many farmers in the country.
"The money will be divided into two tranches, with the first tranche being utilised for the procurement of 220 sets of compact tractors, while the second tranche will be used to purchase 300 multi-purpose mini tractors," the minister stated.
"This is what the Planting for Food and Jobs programme is all about — supporting small-holder farmers to expand their productivity," he added.
Read Also: Upper West Region: Farmers urge government to implement the 'One Village One Dam' pledge
Planting for Food and Jobs is an initiative of the government launched in April 2017 to encourage the youth to go into agriculture and increase agricultural production in Ghana.
Report by Gideon Sarpong | iWatch Africa