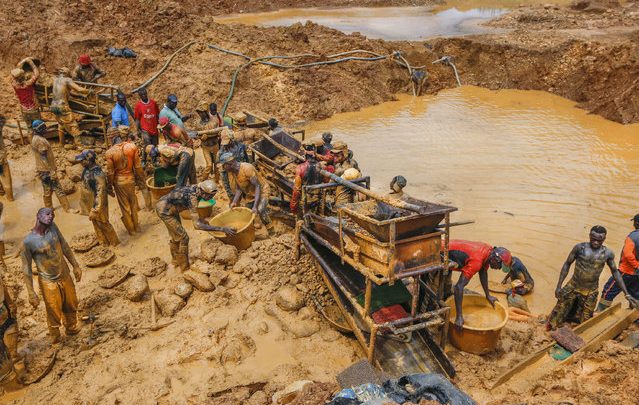 Small-scale gold production dropped by only 6% in 2017 despite ban
Impact of small-scale gold ban
iWatch Africa assessment of the total gold output from the small-scale miners can confirm that the government ban on the sector in 2017 had little impact on small-scale gold production in Ghana.
Following the widespread devastation of water resources and forest reserves and an intense media campaign against illegal small-scale mining, the government of Ghana ordered a ban on small-scale mining in 2017 and deployed a task force of 400 security personnel to enforce it.
The ban which was extended at least three times with the then Minister of Lands and Natural Resources, John-Peter Amewu leading the charge however had little impact on the total  gold production from the sector.
According to gold production data provided by the Minerals Commission in 2016, total gold production by small scale miners was 1,654,919 oz, representing 39 percent of total gold production in Ghana.
Meanwhile, total gold output by the small-scale sector in 2017 was 1,393,395 oz, representing 33 percent of total gold production in Ghana and a drop of only 6 percent, calling into question the effectiveness of the ban that was introduced over a year ago.
Dr. Isaac Bonsu Karikari, a Project Director at the Ministry of Lands and Natural Resources in charge of the implementation of the Multi-Sectoral Mining Integrated Project (MMIP), argued that history has shown that militarized solutions are not the best approach to dealing with small scale mining.
Read Also: Missing Gold: How Ghana lost over $6 billion in gold export revenue to major trading partners
"President Kuffour and President Rawlings both introduced security task forces during their reigns but it failed to produce results because the security officials ended up being compromised by the illegal miners," he told iWatch Africa.
Meanwhile, the government announced on Thursday the lifting of the ban slapped on small-scale mining across the country.
Report by Gideon Sarpong | iWatch Africa