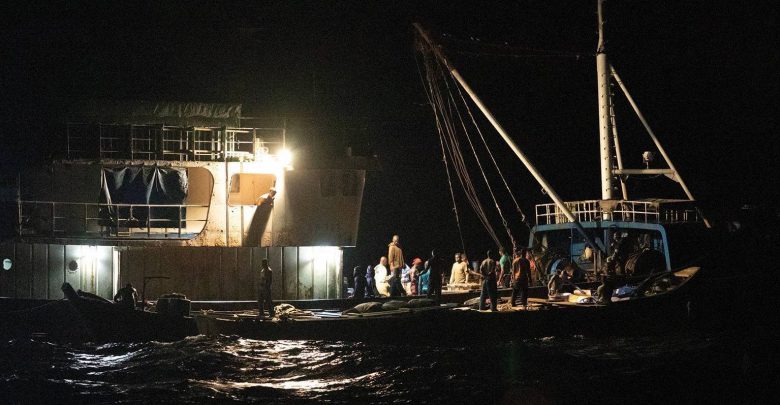 How Chinese driven 'saiko' is destroying marine species in Ghana's waters
A 2019 report by the Environmental Justice Foundation (EJF) has revealed that Ghana's small pelagic fishery could collapse within the next three to seven years if there is no change or significant action by the government to curb illegal saiko fishing along the coasts of the country.
Saiko is the local name for illegal fish trans-shipments in Ghana, where industrial trawlers transfer frozen fish to specially adapted canoes out at sea.
Data provided by the Scientific and Technical Working Group in 2018 revealed that although fishing effort by the artisanal fleet has been increasing; catches of small pelagics fell to 19,608 metric tonnes in 2016, a sharp decline from the peak of 138,955 metric tonnes recorded in 1996.
Income of Ghana's canoe fishers have also declined by as much as 40% over the past 10-15 years, with many local fishermen now going to sea and returning with no catch.
"The ocean is the new economic frontier, with marine-related economies predicted to reach nearly 3 trillion dollars of global gross value by 2030. Considering the crucial role the ocean plays and how much artisanal fishers depend on it, the government must take bold decisions to prevent saiko in our waters," iWatch Africa's Gideon Sarpong stated.
The scale and composition of saiko catches is highly concerning for the long-term viability of Ghana's fisheries resources. According to the EJF report, the saiko trade took around 100,000 tonnes of fish in 2017, worth over $50 million, with much of this benefit accruing to vessels with Chinese beneficial ownership.
These Chinese trawlers, who often use Ghanaians as front to secure licenses, are able to hoover up vast quantities of small pelagic fish such as sardinella – the main catch of the local canoe fishers and a crucial part of the nation's diet. Unless urgent action is taken, scientists estimate that these stocks could collapse in the very near future.
In October, 2019, a Ghanaian registered fishing vessel operated by Chinese nationals was fined $1 million for illegal pelagic fishing.
Policy analyst, Gideon Sarpong is of the view that the government must "routinely inspect the fishing gear and catches of industrial trawlers to ensure they are only targeting species of the type and size dictated by their licence."
He also proposed that the Ghanaian government works closely with its Chinese counterpart "to identify the beneficial owners of industrial trawlers operating in Ghana," and bring them into line with the requirements of Ghanaian law.
"Until these are done, unfortunately our pelagic stock (sardinellas, anchovy and mackerel) would be totally destroyed with a tremendous effect on the marine ecosystem as well as artisanal fishers in Ghana," he added.
Credit: iwatchafrica.org