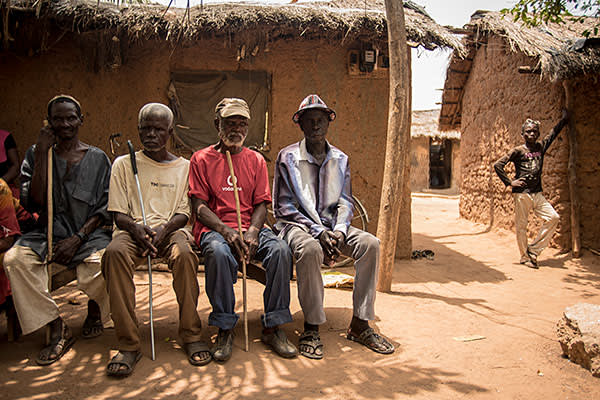 Onchocerciasis (River Blindness): 4.7 million Ghanaians in 85 districts at risk of contracting the disease
Tracking Neglected Tropical Diseases (NTDs)
iWatch Africa assessment of data provided by the Ghana Health Service regarding Neglected Tropical Diseases (NTDs) can confirm that an estimated 4.7 million people in over 3000 communities in Ghana are considered to be at risk of contracting the disease Onchocerciasis (River Blindness).
Onchocerciasis, which is almost exclusively confined to West and Central Africa is transmitted by tiny blackflies that live by fast-flowing water. These blackflies spread the filarial worms that cause onchocerciasis, known also as river blindness, from person to person. The disease is mostly found in remote villages where inhabitants subsist on farming. Once inside the body, the larvae of the worms migrate to the skin, eyes and other organs, where they grow into adult worms that can live in the body for up to 15 years.
In Ghana, Greater-Accra Region is the only region out of the 10 regions that is not endemic for Onchocerciasis according to the 2017 Ghana Health service report.
The disease causes skin lesions, severe itching and visual impairment, including permanent blindness, and can shorten life expectancy by up to 15 years. More than 99 per cent of infected people live in 31 countries in sub-Saharan Africa.
In 2016, the government launched a program aimed at eliminating onchocerciasis by the year 2020 in 85 endemic districts but the program has been saddled with several challenges.
One key observation from the community registers was the erratic treatment of individuals which has compromised compliance, a concern which was also shared by Dr. Anthony Nsiah Asare, Director General of the Ghana Health Service.
Thomas Azurago, a Health Director in Birim North, who works closely with volunteers in the distribution of drugs from house to house explained some of the challenges faced by his team.
"It's a big challenge getting access to the community," says Thomas Azurago. "The district has no ambulance and cars are in very short supply, with just a few motorbikes for health workers to reach remote areas. It is not always easy to find and retain unpaid community drug volunteers, whose goodwill is being stretched as a growing number of competing disease programmes seek them to dispense advice and distribute products, including drugs and anti-malaria mosquito nets.," he added.
Read Also: Diabetes death rates increased by 46 percent between 2005-2016
Onchocerciasis is one of the devastating diseases of the NTDs in terms of social and economic impact. Families and communities have to bear the brunt of long-term healthcare, coupled with loss of productivity and earnings due to the incapacity to work. The disabling effects on the individual leads to social stigmatization and isolation.
World Health Organisation (WHO) estimates that over 17 million have been infected worldwide.
Report by Gideon Sarpong | iWatch Africa