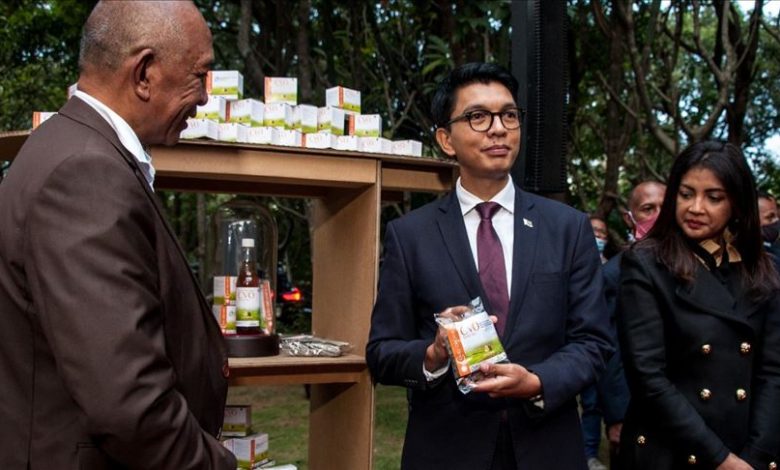 Ghana requests for Madagascar's COVID-Organics despite caution from WHO
Tracking COVID-19
The Ghanaian government has confirmed that it has reached out to Madagascar to make available to the country its supposed COVID-19 herbal remedy despite the World Health Organisation caution against use of products which have not been "robustly investigated" and could potentially "put people in danger."
Speaking last Tuesday during a press briefing in Accra, the Information Minister, Kojo Oppong Nkrumah said: "We are considering it [the herbal cure]. We have reached out to them [Madagascar]. We have asked that it [should] be made available to us."
The minister however admitted that the Madagascar COVID-Organics would have to undergo further tests by regulatory bodies before the drug could be administered in the country.
"Like all drugs, it will be tested by FDA and in this case by the Center for Plant Medicine and if proven efficacious, we can recommend its use," he stated.
Madagascar's president, Andry Rajoelina, last week defended the unproven Covid-Organics drink, which is reportedly made from Artemisia annua (sweet wormwood) and herbs, telling France 24 it was a "preventive and curative remedy" and "works really well".
However, when Dr. Zabulon Yoti, WHO Africa Regional Emergencies Director (Acting) was asked during a press briefing organized by the Reuters Foundation last week whether WHO had any data or evidence of its efficacy, he said: "No, at the moment we have no cure for COVID-19."
He further cautioned against use of drugs which have not undergone clinical trials.
"So currently the herbal treatments out there have not undergone clinical trials. What we are offering as WHO is to work with these countries to do proper clinical trials and also to monitor the effects of those who have taken these medicines, so we can see if these are really potent medicines," he said.
Meanwhile, a Member of Parliament in Ghana, Samuel Okudzeto Ablakwa, has condemned the prejudice the Madagascar Coronavirus "cure" has suffered.
In a tweet, he said: "The prejudice against anything from Africa must be boldly confronted."
The lawmaker further commended the Africa Union for reaching out to the Madagascan President on the herbal medicine.
Read Also: Fixing the Future: What must the world do now and post COVID-19?
"I highly commend the African Union for reaching out to the Madagascan President, Andry Rajoelina on the wonder coronavirus herbal medicine: COVID-Organics."
WHO has however paid for advertisements to appear alongside Google searches for Artemisia annua. The advertisements lead to a WHO page that says such medicinal plants should be tested for efficacy and negative side effects.
"Africans deserve to use medicines tested to the same standards as people in the rest of the world," the statement says.
It remains unclear when the Food and Drugs Authority in Ghana will complete its assessment of the Madagascar Covid-Organics and make the results available to the general public.
By Gideon Sarpong | iWatch Africa