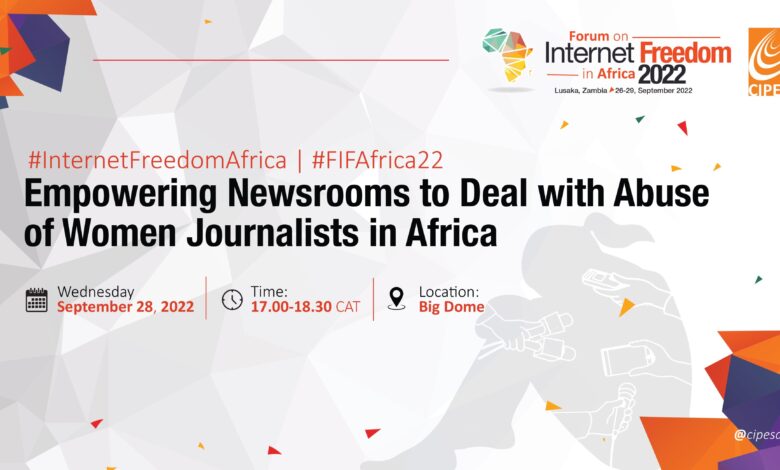 iWatch Africa joins #FIFAfrica22 in Zambia, focusing on safety of journalists online
iWatch Africa is pleased to announce its participation in the Forum on Internet Freedom in Africa 2022 (#FIFAfrica22) organized by the Collaboration on International ICT for East and Southern Africa (CIPESA).
The event will convene a spectrum of stakeholders from across the internet governance and digital rights arena in Africa and beyond, and will take place in Lusaka, Zambia from September 26-29, 2022.
In accordance with FIFAfrica22, iWatch Africa will participate in a session on "Empowering newsrooms to deal with abuse of women journalists in Africa". The session will focus on the preparedness of newsrooms to tackle abuse of  journalists, particularly women journalists within the digital ecosystem.
Read More: iWatch Africa selects 20 journalists to tackle online abuse & harassment of journalists in West Africa
Join iWatch Africa's Co-founder, and monitoring and evaluation expert, Moro Seidu in Zambia (virtually or Physically) on the 28th of September 2022 as he shares the discussion platform with Doreen Raheena Sulleyman-Editor in Chief at Techpreneur Magazine, Cecilia Maundu of the International Association of Women in Radio and Television (IAWRT), Prossy Sheila Kawala of the International Training Programme on Media Development in a Democratic Framework (ITP) and George Lugalambi of the African Center for Media Excellence (ACME).
You can register and join us remotely -> https://bit.ly/3QZo9EL
#FIFAfrica22
#InternetFreedomAfrica
Credit: iwatchafrica.org