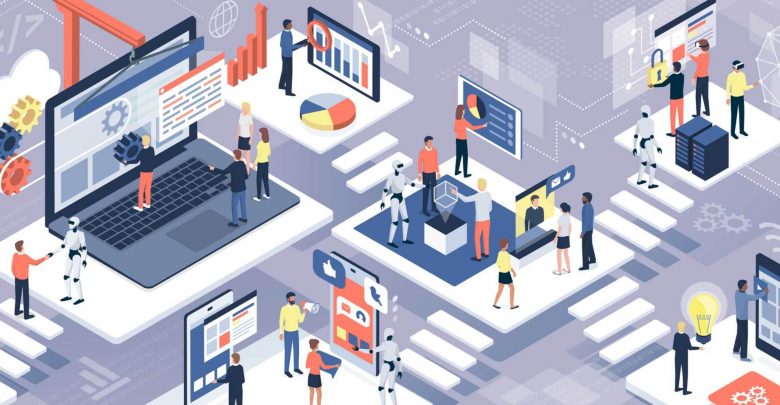 Henry Kyeremeh writes: When is technology taking over my job?
The notion that technology will displace humans of work at some point in time is a difficult one to grapple with. It is an issue that must be delved into because of the rapid progress made in technology, especially within the few decades.
Lorries have replaced horse-drawn carriages as the conventional and convenient means of transport. Medical innovations have helped cure terrible plagues, agricultural automation and modernisation have also helped avert famine of catastrophic proportion. At the heart of these commendable transformations is the Homo Sapiens. Sapiens, aided by technology, to a large extent have survived all forms of environmental challenges, albeit occasional casualties. Technology has been the means of surviving one's environment.
In recent times, the reliance on technology has surged drastically. New technologies have enabled greater human connectedness, propelled global economic growth, reduce inequality, and also led to a reduction in global poverty. Robots have increased efficiency at the factory floor, artificial intelligence and big data are revolutionising several fields, including healthcare, energy supply, transportation, national security, and telecommunication, as well as education. As a result, technology has overtaken human in all spheres of life.
To illustrate how fast technology is displacing human, I cite the recent astonishing achievement of DeepMind under the project called AlphaZero. Circa 2017, Google's artificial intelligence subsidiary, DeepMind, released a machine-learning programme called the AlphaZero. The programme, despite limited knowledge of chess game, was able to defeat the best computer chess programme at that time called Stockfish-8 within four hours. Only chess instructions were built into AlphaZero. AlphaZero's grit and mastery of chess came only through self-play and demonstrated the superior capacity of artificial intelligence. AlphaZero is built on two critical parts; a neural network and a Monte Carlo Tree Search (MCTS) algorithm.
The gleeful exploits of AlphaZero further demonstrated the remarkable strides made in biochemical engineering and information technology over the few decades. It also indicates the kind of future awaits humans in the era of dataism. It thus appears that whereas technology is perpetually getting upgraded and better, humans have remained static. Despite the noticeable imbalance, technology still keeps pacing at a faster rate.
The quaquaversal improvements in technology possess a challenge to existing jobs. Already, many jobs, especially in the manufacturing sector, have given way to technology. The problem is particularly manifest in emerging and developing countries where human still dominates the labour supply market. Also, developing countries still have an enormous chunk of their citizens having little or no form of modern education. With improvements in technology, many more low-skilled jobs will cease to exist. At some point, rather than technology becoming an enabler for human, it could become replacer of human. Moreover, technology will continue to be the most preferred because it is efficient and less costly than human.
It is undeniable that technology will also lead to the creation of some jobs. However, these new jobs would require high-end skilled sets meaning those unemployed and unskilled will continue to wallow in the quagmire of uncertainty and alienation. Already many human-centred jobs in developing countries are being extinguished as businesses become more intense in their use of digital technologies. At the same time, the number of new jobs created are disproportional to the number of skilled persons churned out every year.
For example, the working-age population in Sub-Saharan Africa is projected to increase to 600 million by 2030 from 370 million in 2010, and that will present a double-edge squeeze problem for the continent. Firstly, a large part of the continent's population by 2030 would still have low-end skills, which straight away throws them out of the digitalised job market. Secondly, by that same period, the share of Sub-Sahara African's with a high-quality education is also expected to increase. As a result, circa 15-20 million well-educated young people will join the workforce every year. This development, according to the World Economic Forum in its report; "The future of jobs and skills in Africa," will present a multifaceted challenge to Africa as the number of quality jobs to match these skilled-sets may not be there by 2030.
It thus appears that the demographic dividend anticipated from Africa's young population may, after all, not be achieved if deliberate and concrete steps are not taking now. Such considered action(s) would enable the continent to take advantage of its demographic dynamism and leverage on it for a better economic outcome.
It is increasingly becoming evident that a new class; moniker, "useless class" may be emerging on the back of advances in technology as many gets pushed out of employment forever. Even though new jobs will be created, those to be destroyed are significant. Many of the new jobs require skills that many in Africa may not have. Even those lucky enough to find jobs may not be immune from future displacements because of the perpetual upgrade in machine learning, Internet of Things, artificial intelligence, and robotics.
Given these anticipated unpleasant concerns, what can African governments do to soothing the possible impact of advances in technology on jobs and also ensure many new jobs get created while embracing technology and innovation? It is essential to stresses that the undesirable spillover of technology is not possible to eliminate entirely.
Education- Creating a "disruptive" education system which encourages and churns out thinkers and solution-oriented individuals should be the nerve center of Africa's education system. It requires that the current education system, which stifles innovation and creativity, be jettisoned for future-ready curricula. That new system must encourage critical thinking, creativity, and emotional intelligence as well as accelerate the acquisition of digital and STEM skills. It must match the way people will work and collaborate in the Fourth Industrial Revolution. In this regards, the African Union's campaign dubbed:1 Million by 2021, where the emphasis on youth empowerment is placed on the 4Es- education, entrepreneurship, Employment, and Engagement is a step in the right direction to creating sustainable jobs.
Also, at the heart of any attempt aimed to make education relevant to the needs of society must be the teacher. Adequate investment in teacher education, provision of modern teaching aids, as well as other amenities, are some of the areas African governments must pay particular attention to if the continent is to succeed in churning out well-prepared students for the fast-changing digitalised job market.
Equally important intervention with a long term benefit is the provision of free education. Sub-Saharan Africa is among those with grave income inequality in the world. As a result, many lower-ebbed families have had to struggle in providing better quality education for their wards. In many instances, talented children who but for lack of school fees would have become assets to the society ends up becoming a liability. Embarking on a policy that allows a colossal number of Africans access to quality education through to the senior secondary level is a sure path to solving the systemic societal inequality of the continent and also position it to push for technology and innovation catch-up with the rest of the world.
Introduce universal basic income/service (UBI/S)- Another proposal gaining traction is the concept of universal basic income (UBI). This concept, just like the universal basic service (UBS), primarily seeks to protect humans rather than jobs. It is one of the ways that humans will be insulated from the shackles of unprecedented technological penetration and its attendant economic disruptions that humans are likely to face shortly.
The UBI requires Governments to impose a tax on businesses operating in the algorithm and robotic space as well as on those who have made billions from the technology space. The tax revenue should then be made available to every member of the society by way of stipend. The stipend must be significant enough to cover the basic needs of individuals. UBI is expected to lessen the impact of job loss and economic dislocation among the poor whiles protecting the rich from the rage of the less privileged.
An alternative approach is the universal basic service (UBS). Here, the concept requires that government subsidies essential services for all citizens. Rather than paying a stipend to individuals, the UBS expects that the government subside or make education free, healthcare free, electricity-free, transportation free, and so forth. These two concepts are derived from capitalism and communism, and they both have pros and cons. Depending on the economic situation of the country, one of the two approaches may be optimal than the other, but they both yields almost the same result.
Make humans relevant in an era of unprecedented technological innovation- We still have a chance to make sapiens relevant in the age of this fast-moving technological world. Fortunately, technology is the creation of man, though, upon their creation, technology often can multiply and learn with or without human help. Creators of technological devices can mirror their inventions in the spectrum where not only tech-savvy guys automatically fit into the new world of digitalised employment created by their innovations. Also, those with limited capacity and greater willingness to convert from whatever work track they were into new tech aided work should be supported to switch. The only caveat here is that there is a price that tech-intensive businesses will pay. They will shed off a proportion of potential growth if the technology, which is a critical input for production growth, is deliberately stifled. It may not be optimal in terms of production efficiency, but it solves the problem of unemployment partially.
In concluding, need I mention that despite the best efforts of African governments to ensure everyone desirous of work gets work, the evidence shows that may not be possible? Many of the new jobs to be created in this digitalised era require a higher skill-sets that takes time and resources to build. Given the time and resources constraints of developing countries, it is clear that the world and in particular, Africa will soon see a surge in the so-called "Useless Society" as more people without the right skills will struggle to get employment.
It worth emphasising that many citizens of developing nations are becoming technologically savvy. At the same time, many are also diverging away. Even for those with the right digital skills, the level of sophistication and speed of change in technological innovation means frequent knowledge update is the only sure way for them to remain relevant in the job market. Maybe, many of us are already in the queue to become full members of the so-called "Useless Class," and we are a few years away from it.    
Article by Henry Kyeremeh | Co-founder iWatch Africa | Email:    kyeremeh@gmail.com